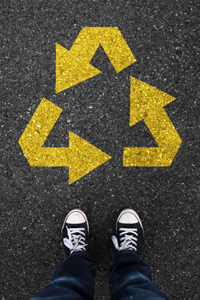 "Of the 2.6 million paved roads in the United States, over 94% are paved with asphalt". (Source: Black and Green Report).
There are many pressing reasons to use recycled asphalt pavement in your next project including cost, the environment, and sustainability. With so many asphalt-paved roads in America, the opportunity exists to really create environmentally friendly, sustainable projects that are also positive for the American economy.
Asphalt is the most recycled product in America, with 80% of all reclaimed asphalt being recycled, but why is that? There are many benefits to recycled asphalt.