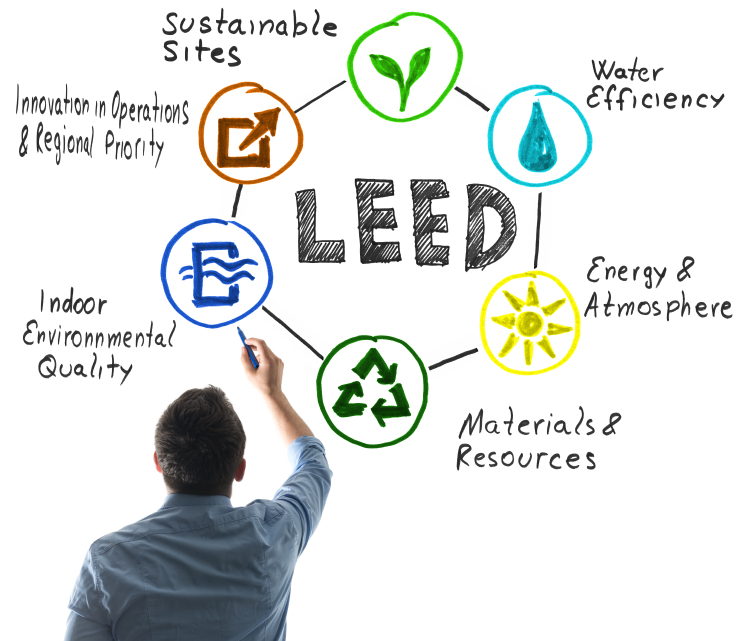 Asphalt is America's most recycled material - so it makes sense that asphalt materials can help you earn LEED credits, right? If you're thinking about sustainability when beginning a new construction project, then you should also be thinking about the materials going into the project. The LEED system was created to help encourage sustainable building habits - and now LEED accreditation is highly desired for many reasons, both monetary and morally. Many cities, counties, and states require LEED certificate for public buildings.
You know why LEED credits are important - but how can you earn them?
The LEED system allows credits to be earned in six categories overall. Asphalt materials can help you achieve credits in three categories:
Materials and Resources (MR)
Innovation and Design Process (ID)
Sustainable Sites
The main words you'll want to keep in mind when thinking of sustainable sites are: porous pavement. This choice in asphalt material can be used stormwater management to decrease water runoff, and improve water quality by reduce pollutants. Each of those features could be another credit!
What are other ways you can use porous pavement in sustainable sites?
Cover dense graded pavement with porous pavement to reduce pollutants and improve water quality
Choose porous pavement in urban areas to reduce heat islands, which could contribute to global warming
Thinking smart about sustainable sites can earn up to five LEED credits!
Materials and Resources
How often do you think about recycled asphalt pavement? It makes sense that in an environmental project, a recycled material could help you achieve points. After all, keeping materials out of landfills is one of the top priorities of LEED certification.
Up to two credits can be earned by planning your material choices smartly before construction begins. Type of asphalt material, if existing pavement is being replaced, and similar decisions can affect how many credits you will earn.
Innovation and Design Process
We may have just been discussing recycled asphalt materials above, but RAP can also earn you ID credits. Include a mix of over 20% RAP to earn up to two LEED credits.
Warm-mix asphalt is another opportunity to earn credits. This type of asphalt is touted as being a more environmentally friendly choice as it reduces emissions, as well as requires fewer natural resources for creation.
Overall, you could earn up to 4 credits for using asphalt in an innovative way during the design process.
Asphalt materials can easily lead to an increase in LEED credits for your building project - making it hard to find a reason to use a different paving material. If you're aiming for a particular level of LEED certification, your choice of material becomes even more important.
Ready to discuss how you can earn LEED credits for your next project? Give us a call - contact Basic Construction today at (757) 249-3789 for more information.
Hey, contractors! Are you ready to spend less time pricing quotes for clients? Download our NEW free ebook, "Estimate Your Projects Right the First Time" with easy ways to estimates cost from the very beginning of every project. Get the guide now!