Commemoration Includes Salute to Co-founder 'Casey' Noland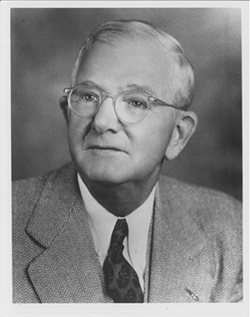 Basic Construction Co. has been celebrating its 100th year in business in 2015, a commemoration that includes a special salute to its late co-founder, Lloyd U. "Casey" Noland.
Noland, an orphan with a fourth-grade education, was an innovator all his life. At 26, he left the security of an engineering job in Newport News to start the Noland-Clifford Co., a mechanical contracting firm, with a partner, T.B. Clifford, and a capital investment of $10,000.
The year was 1915, and the war in Europe was sparking a bustling economy in Newport News. By 1924, the company had expanded into utilities, highway and building construction and changed its name to the Virginia Engineering Co. Meanwhile, Casey Noland became well-known for his entrepreneurial prowess and civic spirit. His achievements included serving as president and board chairman of the Virginia State Chamber of Commerce and being elected to the Newport News City Council and Virginia Senate. He died in 1952.
In 1962, the company's name changed again, this time to Basic Construction Co. Basic left the building construction field in 1982 but continued with utilities, highway construction and asphalt paving.
The company operated under the ownership of three generations of the Noland family until employees purchased the firm in 2013.
Today, as a 100 percent employee-owned company, Basic performs sanitary sewer and force main work, water main installation, storm sewer works, highway and road work, and asphalt paving and production.
Basic continues to be an award-winning, leading provider of construction solutions throughout Hampton Roads. The company also has become known for dispensing expert tips about asphalt and construction services through its blog.
The company is led by its president, C. Derek Patterson, who is a past president of the Peninsula Chapter of the Associated General Contractors and is a member of the Virginia Transportation Construction Alliance and the Hampton Roads Utility & Heavy Contractors Association.