Basic Construction Company completes work on Old Wormley Creek Road Sewer in York County, Virginia.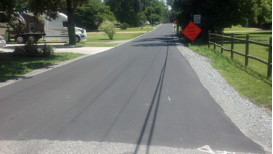 Consisting of over four miles of new gravity and force main sewer installation, this long-anticipated project allows affected York County residents to access county sewer systems and abandon their failing septic systems.
The complexity of the 16-month project brought all the utility crews from Basic to the project at some point during the life of the job to solve tough challenges, such as:
Deep installation depths
Excessively wet ground condition
Traffic control
The Basic crews overcame these challenges daily, adding to and refining our underground utilities expertise and delivering a quality product for York County.

A project for the York County Department of Environmental and Development Services, the sewer installation impacted residents on Old Wormley Creek Road, Bolivar Drive, Shield Lane, and Court Road.

Basic Construction Company offers underground utilities solutions and troubleshooting services throughout Southeastern Virginia.

Request a quote to find out how our experts can support your next project in the Hampton Roads area.

Get experts tips for estimating underground utilities and other heavy constructions projects like this one by requesting our free eBook today.